'Memories of War' is a project which leaves voices of the people who survived the war.We are not supporting any specific organization, and we are not agitating any thoughts.
Moreover, please be consent about the following descriptions.
The contents of the interview have left the voices and thoughts of the people who survived from the war.Moreover, there might be inappropriate expressions but we have left the voices as it was spoken.
The articles were recorded based on the knowledge and memories during the interview were taken.Therefore, there might be memories difference and some ambiguous point.
PROFILE
Media Journalist   Yohei Hayakawa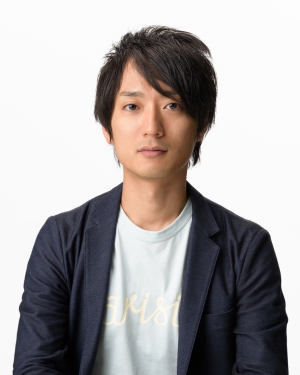 Yohei Hayakawa has a journalist career for a local newspaper company.
He established his own company KIQTAS Co., Ltd and started an internet radio program (Podcast system) "KIKUMAGA" in 2008 as his new career as a media Journalist.
Over 150 people, such as Banana Yoshimoto, Tokiko Kato, Shuntaro Torigoe, Kenichiro Mogi, Ira Ishida, and Tsuyoshi Takashiro joined this program as guests.
This program hits over 2 million downloads a year.
Recently, he has been directly involved with producing commercial films for global companies, such as UNIQLO and Nestlé (Nescafé) as the interviewer.
As representative of KIQTAS Co., Ltd and also as producer, he creates the media for companies, individuals, and organizations.
One of the main services, podcast streaming service, is widely used by public and educational institutions, companies, media, and authors.
Internet radio programs produced by "KIQTAS Co., Ltd" have the record of downloads of over 2 million a month and 70 million total in the world.
Since 2013, he has worked on the interview "Memories of War". This project is for gleaning the people's experiences of those who are still alive from World War Ⅱ firsthand in their real voices and sends these experiences throughout the world.
"KIQTAS Co., Ltd" comes from the following :
"KIKU" ("the pronunciation of "Q" is read as "KU" in this case) has mainly three meanings in Japanese "Hear, Listen, and Ask".
"TAS" has a meaning of "Adding Valuable Things" in Japanese.
People's stories are full of wisdom and lead us to real awareness of something. We, KIQTAS Co., Ltd will send impetus to you to change your futures better through our programs.
About company's logo
"Q" and "+" are used as KIQTAS logo. "Q" means "Questions" and the design looks like an ear. "+" is added part of "A" of "KIQTAS".
We put our company's policy into the logo.
"KIKUMAGA" comes from the following :
"Maga" is an abbreviation of "Magazine". Through this program, you can receive valuable information like reading magazines.
We wish this program provides something special to you.
Biography
Produced programs
Yokohama Art Museum's Radio Bijyutsukan ( 2010~2012)
Tama Dai Channel (2010~2012)
Shuntaro Torigoe News Shokunin Channel (2012~)
ITOCHU Corporation's The Shosha Man (2013)
And more.
Those interviewed until now
Banana Yoshimoto : Author of "Kitchen" (World bestseller book)
Shuntaro Torigoe : Journalist; TV Broadcaster
Miki Watanabe : Founder of "Watami Co., Ltd"; Politician
Ira Ishida : Novelist (Bestseller book novelist)
Wahei Takeda : President of "TAKEDA Confectionery Co., Ltd"
Kouta Matsuda : Founder of "Tully's Coffee Japan"; Politician
Jitsuro Terashima : President of Tama University; Columnist
Jin Tatsumura : Film Director
Shunmyo Masuno : Zen Priest; Landscape Designer
President of Japan Landscape Consultants, Ltd
Professor of Tama Art University
Ken Honda : Author
Yataro Matsuura : Head Editor of "Kurashino-Techo"
Yuichi Higuchi : Author; Professor of Tama University
Seiryoin Ryusui : Novelist
Hiroaki Koide : Assistant Professor of Kyoto University Research Reactor Institute
Ryuichi Hirokawa : Photojournalist
Tokiko Kato : Singer and Songwriter
Fuyuko Matsui : Artist
Tsuyoshi Takashiro : DJ; Filmmaker
Maki Nomiya : Musician
Joined "Pizzicato Five" in the 90s as the third vocalist
Nao Matsushita : Actress; Pianist; Singer
Sonim : Entertainer
Tetsuo Nakanishi : Former J. League Football Player; Sports Journalist
J. League(Japan Professional Football League)
Hajime Moriyasu : Director of J. League Football Team "SANFRECCE HIOSHIMA"
Ramos Ruy : Former Representative of Japan National Football Team
Minoru Kamata : Doctor
Kenichiro Mogi : Neuroscientist
Rika Kayama : Psychiatrist
Maki Ohashi : Aromatherapist; Announcer
Shigeru Kajiwara : Announcer
Ken Noguchi : Alpinist
Hideki Wada : Psychiatrist
And more than 1,000 people, names listed without honorifics.
〈WORKS〉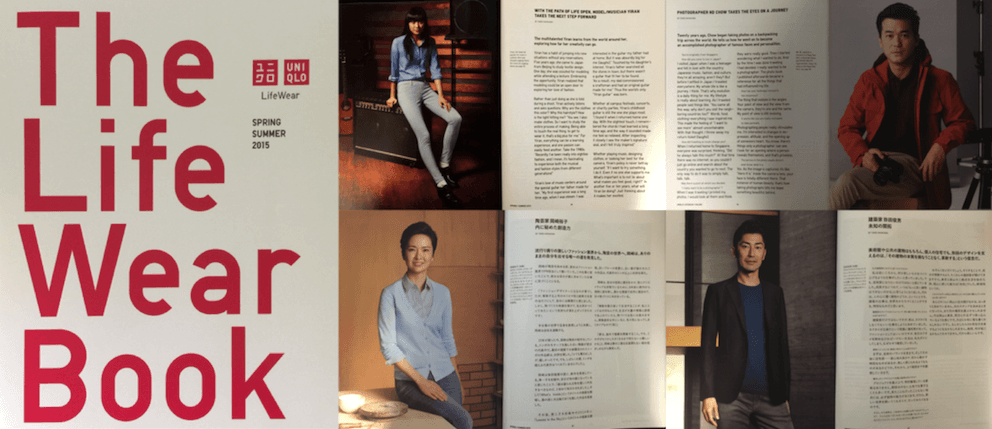 UNIQLO : STETECO & RELACO
"Life with Gentle Wind"

Benesse Counseling Room Everything You Study
Part 1 – Part 4

NESCAFÉ : Regular Soluble Coffee is Coming Up!
"Sommelier"
"Japanese Tea Sommelier"
"Café Taster"